February 12, 2022
Updates for The Mexico Activation Tour (March, April 2022)!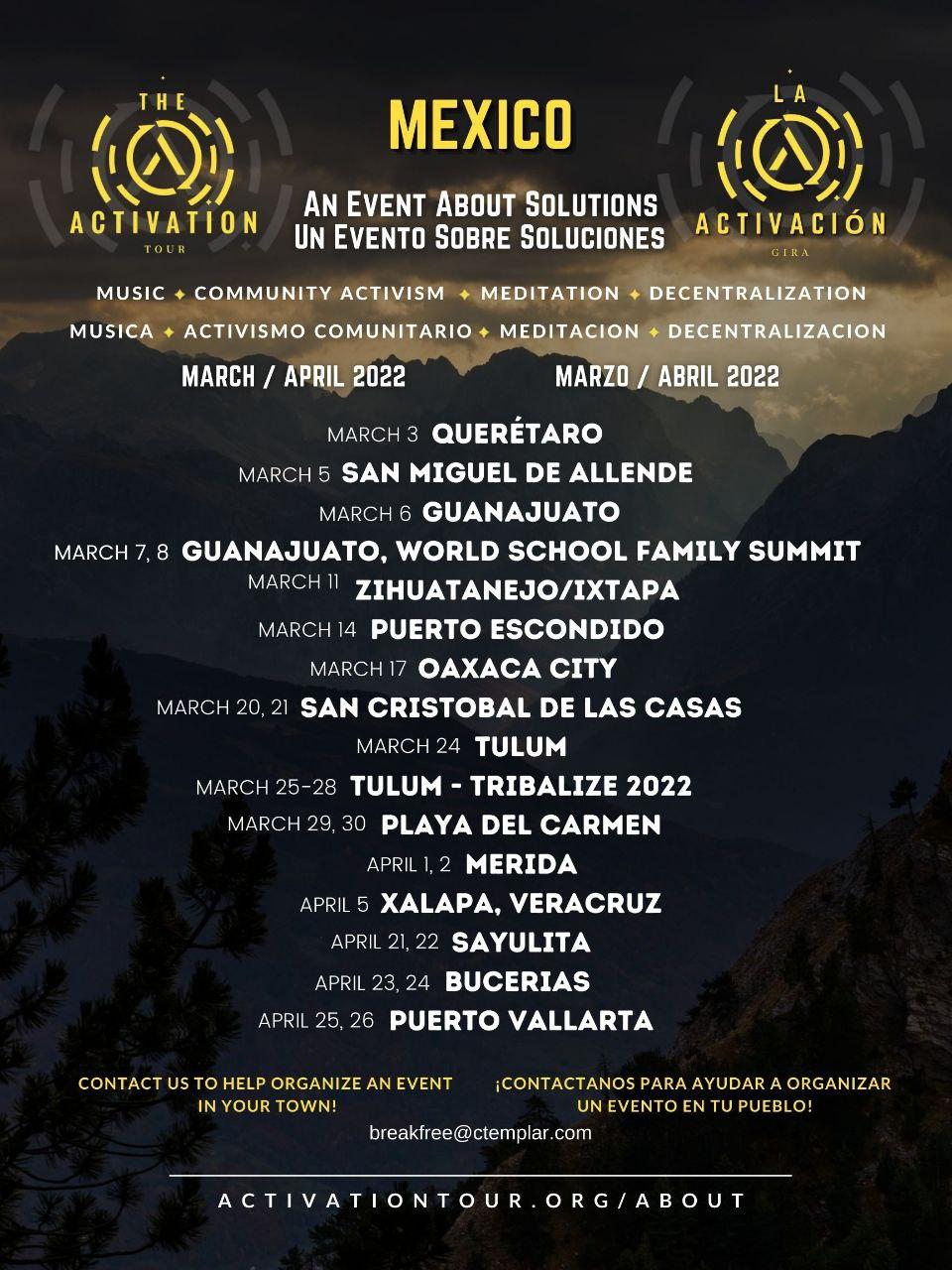 The Conscious Resistance Network presents:
The Mexico Activation Tour
Featuring Derrick Broze and Miriam Gomez
March, April 2022
14 cities,16 events
Fresh off the success of The Greater Reset 3: Integration in Morelia, Mexico, Miriam Gomez and Derrick Broze are preparing to hit the road for 30 days as they launch The Mexico Activation Tour!

The MX Activation Tour will be similar to the 2021 U.S. Activation Tour, which saw Miriam Gomez and Derrick Broze visit 29 American cities in 60 days. This time they will travel across Mexico to share a message of liberation and empowerment.

Every stop on the tour will feature a Community Action Day where Derrick, Miriam, and local activists will volunteer and give back to the community with activism, community gardening/farming, park or beach cleanups, etc. The main event will feature a guided meditation from Miriam, a brand new presentation from Derrick focused on solutions for vaccine passports and technocracy, and a musical performance by 33.


-Every stop features:
- A brand new presentation from Derrick Broze
- A guided meditation & presentation from Miriam Gomez
- Live music from 33
- Community Action Days, volunteering in every city
- All stops are free and open to the public, except the World Family Summit and Tribalize

Meet the Crew of The Activation Tour
Official Schedule:

Queretaro - March 3rd
San Miguel de Allende - March 5th
Guanajuato - March 6th
Guanajuato - World School Family Summit - "Building Bridges"  March 7, 8th
Zihuatanejo/Ixtapa - March 11th
Puerto Escondido - March 14th
Oaxaca City - March 17th
San Cristobal de las Casas- March 20th, 21st
Tulum - March 24th
Tulum - Tribalize 2022 - March 25-28th
Playa del Carmen - March 29th, 30th
Merida - April 1st, 2nd
Xalapa, Veracruz - April 5th
Sayulita, Nayarit April 21, 22nd
Bucerias, Nayarit - April 23rd, 24th
Puerto Vallarta, Jalisco - April 25th 26th
To help us organize a stop please email breakfree at ctemplar dot com, Subject "Mexico Tour"